*******Stop Press*******
Our 2015 production will be

" Much Ado about Nothing"
***********************
Directed by Martin Riley it will presented in the open air at Royden Park, Frankby - all seats under cover as usual.

From Monday 22nd June - Saturday 27th June 2015
******Auditions dates confirmed*******
Tuesday 25th, Wednesday 26th and Friday 28th November 2014 in Greasby Methodist Church Hall from 7.30pm.
Keep checking the website and the press for details.
------------------------------------------------------------------------------
Our most recent production


Sadly, it's all over- but what a great production.
If you saw it, you won't forget it-if you missed it-hard luck.
Less than a year to go to the next one!!

------------------------------------------------------------------------------
Hillbark Players are linked with the
50th anniversary of 'Doctor Who'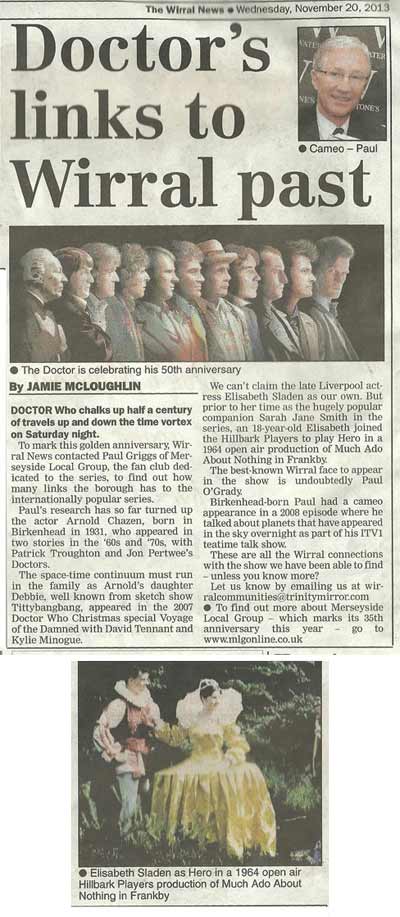 50th anniversary party
Hillbark Players celebrates its 50 birthday this year
Calling all Hillbarkers - come to our party
Tickets available from Gareth Cooper
13, Wroxham Drive Upton,Wirral CH49 0TS
Or via hiilbarkplayers@gmail.com

click to enlarge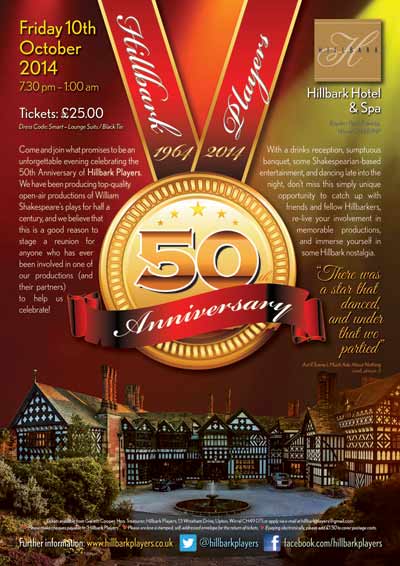 Who are we?
Hillbark Players is the leading presenter of open-air Shakespeare in the North West. The Company was founded in 1964 to celebrate the 400th anniversary of Shakespeare's birth and apart from a short break in the early 1970's, Hillbark Players has presented a production every other year since.
2013 was our 24th Production.
Our major productions are always presented in a traditional way and the best local talent is sought, both to perform and to provide technical support.  A purpose-built 450-seat theatre is created in Royden Park, Frankby - a public park just outside West Kirby on the Wirral. Theatre quality lighting is installed and all seats are under cover - it is only the actors who get wet - occasionally!  
On alternate years we sometimes present a smaller scale revue-style production where the audience need to bring a seat, a picnic and maybe an umbrella.
The most frequently used adjective to describe the full Hillbark experience is 'magical' and we look forward to June 2015 to share this magic with you again.
Past Productions
2012 - From Shakespeare With Love
2011 - The Merry Wives of Windsor
2005 - The Taming of the Shrew
2001 - A Midsummer Night's Dream
1992 - The Merry Wives of Windsor
1980 - Two Gentlemen of Verona
1978 - A Midsummer Night's Dream
1967 - The Merry Wives of Windsor
1966 - The Taming of the Shrew
1960 - A Midsummer Night's Dream
- from the foreunners of Hillbark Players

---------------------------------------------------------------------------
Here are some related sites which you might find useful:-

*Hillbark Hotel
*Royden Park

*Shakespeare's Globe
*Royal Shakespeare Company
*The Complete Works of William Shakespeare
*Wikepedia entry for William Shakespeare
*Shakespeare's Birthplace Trust
*Shakespeare Online
*Costume Resources - A Guide to Shakespeare
*William Shakespeare - Theater Inspirations

*Riverside Players
*Carlton Players
*Bebington Dramatic Society
*Hand in Hand Theatre
*Nick Sample-Graphic Designer