Hillbark Players will be returning in July 2016 with a small scale production called
'Shakespeare's Midsummer Madness'
**********************************************************
This interim production will be devised & directed by Ann Warr. We are looking for actors and crew who would like a taste of Hillbark, and who can commit to rehearsals from May onwards. We can promise a magical time, different to anything Hillbark has done before.
Auditions will take place February 8th and 9th from 7:30pm at Greasby Methodist Church.
Please email hillbarkplayers@gmail.com for information.
Audition pieces will be posted here soon.
---------------------------------------------------------------------------
Our 2015 production was
"Much Ado About Nothing"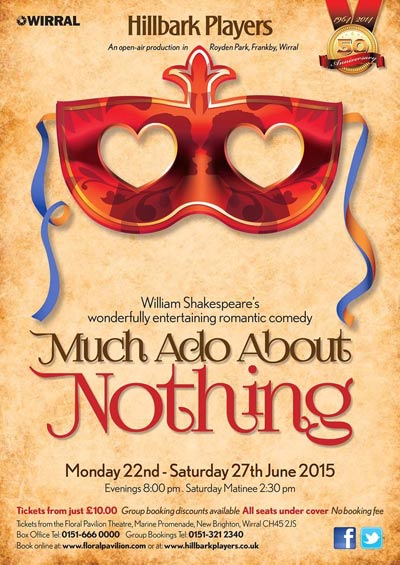 Directed by Martin Riley, it was presented in the open air at Royden Park, Frankby - all seats under cover as usual.

From Monday 22nd June - Saturday 27th June 2015
Next Production - June 2017
---------------------------------------------------------------------------
Hillbark Players has
a new Chairman
Nigel Cooper took over as Chairman of Hillbark Players on 3rd September 2015, with the retiring Chiarman Mike Ellis becoming its President.
The new Chairman - Nigel Cooper - is no stranger to Hillbark Players having been its Stage Manager for over 27 years until he handed over the role for the 2015 production.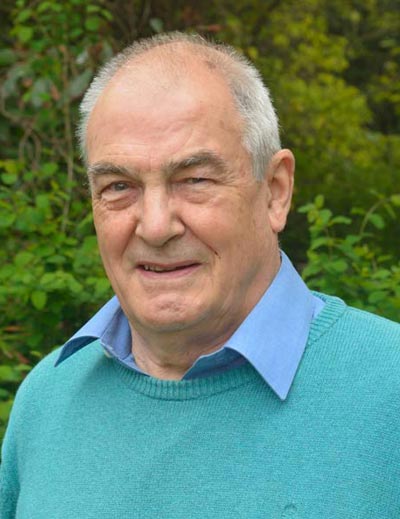 *****************************************
President Mike is pictured here with one of his retirement gifts - a mole named 'Royden' in memory of the constant battle he waged with them on the Hillbark acting arena!!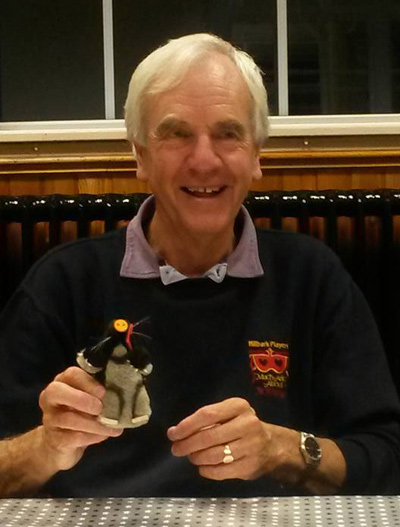 ------------------------------------------------------------------------------
Hillbark Players celebrated its 50th birthday in 2014

Who are we?
Hillbark Players is the leading presenter of open-air Shakespeare in the North West. The Company was founded in 1964 to celebrate the 400th anniversary of Shakespeare's birth and apart from a short break in the early 1970's, Hillbark Players has presented a production every other year since.
2015 was our 25th Production.
Our major productions are always presented in a traditional way and the best local talent is sought, both to perform and to provide technical support.  A purpose-built 450-seat theatre is created in Royden Park, Frankby - a public park just outside West Kirby on the Wirral. Theatre quality lighting is installed and all seats are under cover - it is only the actors who get wet - occasionally!  
On alternate years we sometimes present a smaller scale revue-style production where the audience need to bring a seat, a picnic and maybe an umbrella.
The most frequently used adjective to describe the full Hillbark experience is 'magical' and we look forward to June 2017 to share this magic with you again.
Keep watching the website for details.
Hillbark Players is named by the Liverpool Echo on The Wirral Bucket List - one of 75 things to do before you die!!!
45. Watch open air Shakespeare in Royden Park
with the Hillbark Players
Hillbark Players are the longest-established open-air Shakespeare company in the North West and their performances are a summer treat for Shakespeare lovers.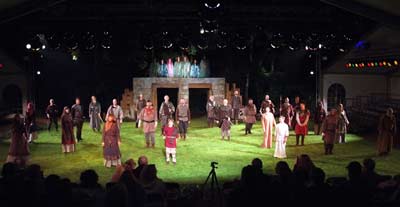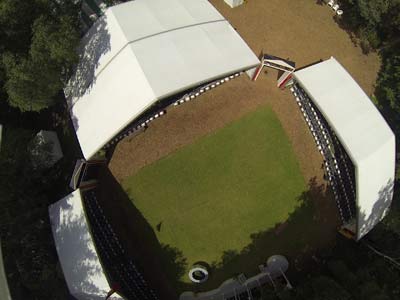 An aerial view of our arena - taken in June 2015
Past Productions
2012 - From Shakespeare With Love
2011 - The Merry Wives of Windsor
2005 - The Taming of the Shrew
2001 - A Midsummer Night's Dream
1992 - The Merry Wives of Windsor
1980 - Two Gentlemen of Verona
1978 - A Midsummer Night's Dream
1967 - The Merry Wives of Windsor
1966 - The Taming of the Shrew
1960 - A Midsummer Night's Dream
- from the forerunners of Hillbark Players
1956 - Henry V
- from the forerunners of Hillbark Players

*******************************************************************
Here are some related sites which you might find useful.

*Hillbark Hotel
*Royden Park Project Team
*Nick Sample-Graphic Designer

*Shakespeare's Globe
*Royal Shakespeare Company
*The Complete Works of William Shakespeare
*Wikepedia entry for William Shakespeare
*Shakespeare's Birthplace Trust
*Shakespeare Online
*Costume Resources - A Guide to Shakespeare
*William Shakespeare - Theater Inspirations
'Shakespeare North'